Stick Bandits EGift Card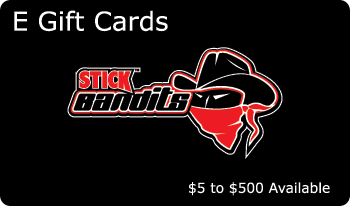 Upon Purchase your redemption code will be emailed to you in a format you can print and give as a gift or enter in code for redemption on our site.
A Stick Bandits E Gift Card is your opportunity to give the gift of our awesome hockey stickers and products to a special person on your gift list. Since all our products are customizable, this gives your gift recipient a chance to build their own designs. Your hockey player will love this gift card!
After your purchase, you will receive an immediate email with a redemption certificate that allows you to print and give as a gift certificate or forward to your gift recipient. All the details on how to redeem your E gift at check out will be in the email you receive immediately.
Your E Gift Card will not expire. Balances are not redeemable for cash. All E gift cards are for online purchases only.
Simple Instructions
Select Gift Card Amount and Quantity.
Add To Your Cart and Checkout.
We will email you an E Gift Card Gift Certificate immediately.
Print Gift Certificate and put in Stocking.
Your Gift recipient will use the E Gift Card code on the printed gift certificate to purchase any custom made products from our website.
It's That Easy! Your Hockey Player will love this Gift!